Helpful resources
We want to make it easier to use your benefits. That's why we've gathered some of the most important resources here. But we can also help you over the phone. If you need help or have questions about your plan, give us a call at
1-800-332-5762
, TTY
711
.
We want to make it easier to use your benefits. That's why we've gathered some of the most important resources here. But we can also help you over the phone. If you need help or have questions about your plan, give us a call at 1-800-332-5762, TTY 711.
Find a doctor near you
Search for a doctor, hospital or specialist in our BlueCare Plus Tennessee network.
Get the drugs you need
See if your drugs are covered, have them delivered to your home and talk to a pharmacist one-on-one.
Find a form
Looking for something? We've put together a list of our most common documents and forms.
YOUR ID CARDS
Let's get to know which cards you'll need
If you're a member, we've already sent you an ID card. But you might still have cards from your other insurance companies. Here's a quick guide to which ones you might need to carry with you.
Your BlueCare Plus Tennessee Card
CARRY THIS WITH YOU This is what you'll show when you get care or pick up your prescriptions.
Other Insurance Cards
CARRY THESE WITH YOU You may not have all of these cards, so don't worry about the ones you don't recognize.
Your Original Medicare Card
KEEP THIS SAFE AT HOME You still need to hang on to your Original Medicare (or red, white and blue) card.
BENEFITS FOR BLUECARE PLUS MEMBERS
We can help you
These benefits are included in your BlueCare Plus Tennessee plan. Have questions? We're here to help. Give us a call at 1-800-332-5762, TTY 711.1-800-332-5762, TTY 711. We're open Monday through Friday from 8 a.m. to 9 p.m. ET.
Leave the cooking to us
After a stay in a hospital or nursing facility, cooking may not be possible at first. That's where we come in.

We can help you get some meals delivered to your home after a qualifying inpatient stay. And we cover this service at no extra cost to you.
Choose your meals from a broad, nutritious menu
Have your meals delivered to you
Enjoy your meals
Get a ride to your health appointments
We want to make getting to your appointments a little easier.

That's why we give you several free rides to plan-approved locations that aren't covered by Medicaid. This can include rides to:


Doctor visits
Pharmacy refills
Diagnostic imaging
Hospital stays
Get a ride to appointments up to 50 miles away
Schedule your ride 72 hours before your appointment
Call 1-855-681-5032, TTY 711,1-855-681-5032, TTY 711, to schedule a ride
If you're a BlueCare Plus member, you get 150 free, one-way rides. If you're a BlueCare Plus Select or BlueCare Plus Choice member, you get 60.
We're here to help you reach your health and fitness goals.

You get:
Access to fitness centers locally and nationwide
Group exercise classes perfect for all fitness levels
Social activities
Exercise at home or at a local fitness center
Keep track of your fitness goals
Access healthy diet and fitness tips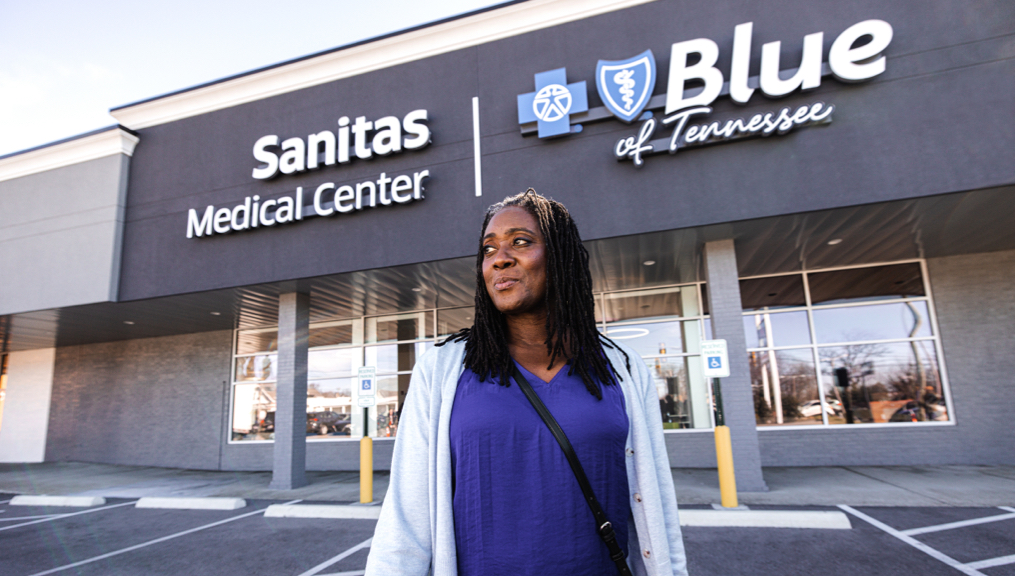 Care and help just for you
At Blue of Tennessee with Sanitas Medical Center, you can get in-person help with your health plan. You can also take care of most of your medical needs in just one stop. See your primary care provider and get urgent care, screenings, lab tests and X-rays with Sanitas. Or meet with a plan advisor to answer your questions, get help with claims or understand your benefits.
You can make an appointment online or call 1-866-378-53621-866-378-5362 to schedule. *Other providers are available in our network.
GET MORE INFO
Primary care, plus urgent care at select locations
Night and weekend hours at select locations
Preventive screenings and vaccinations
YOUR RIGHTS AS A MEMBER
You have the right to
Don't be afraid to ask us to cover something that you and your doctor feel you need. We take every request seriously and want you to get the care that's right for you.
If we've made a decision you don't agree with, you can ask us to reconsider (or "file an appeal"). We'll look again at a service or prescription we've denied within 60 days of our original decision.
If you aren't satisfied with the quality of care you received through your plan, a network provider or pharmacy, you can file an official complaint (or grievance).
If you need help filing an appeal, you can assign someone like a family member, friend, advocate, attorney or any doctor to represent you. They can:
Get information about your claim
Submit evidence
Make requests
Give or receive notices about the appeal
We want to help you understand your responsibilities and ours when it comes to leaving your plan (or disenrollment).